Lightweight Brick Facing
& other Flexi-brick uses
As wall covering on inner walls




You will create a very personal ambiance in your home. No matter whether you choose the bright white or the distinctive deep red thin brick slip, or one of the many other warm color varieties, the unique Elastolith flexible thin brick slips you are sure to turn your house into a home.

On partition walls and structures on stage
Using the flexible thin brick slips, you will quickly and easily build solid-looking partition walls, which are yet very light and easy to move. Stage designers also know about the flexible thin brick slip and it is often used for building structures on stage.

Exterior Wall Finishes




For many decades the flexible thin Flexi-Brick has also proved its worth as a high-quality outer wall finish in new developments and renovation projects. Countless commercial and residential properties, even entire neighborhoods have been fitted with the unique flexible thin Flexi-Brick! The Flexi-Brick thin brick slips are creating a harmonious brick bond that is very familiar in many countries. The picture to the right shows one of the possible modular structures.



---
Flexible for wrapping columns or curved surfaces:

Interior or exterior use
Veneer directly over most building materials
Stays flexible - moves with the structure without cracking
Meet building appearance codes where metal exteriors are not acceptable
Cut with scissors or aviation snips
Fire resistant
In use in Europe for over 40 years

FlexiBrick installed over steel construction:

Individual bricks or mounted on 4' x 8' polystyrene sheets (adding an R-10 insulation value)
Mounted on 32" high polystyrene mobile/modular home skirting
Prefabricated standard or custom size chimney or flue wraps
Flexible for wrapping columns or curved surfaces
Bricks and latex based mortar/adhesive available in several colors
No footers required
Can be installed by skilled or semi-skilled labor
Usefull Tips

The horizontal joints and the vertical joints must be 3/8" wide.

Smaller joints will need more bricks per foot.

Always start on the top-side of the wall.

Be sure that the rows are levelled.

Always take the Flexi-Brick at random from different cartons to get a uniform finished appearance of the colors.

Embed the Flexi-Brick firmly into the adhesive.

Ensure that they are offset and no moisture can get behind the already applied bricks.

Small differences in color and structure are to be expected by later buys, because of the use of natural material (special sands).

Exterior Application - After application the surface has to be protected against rain for 5-7 days minimum.

Never apply Flexi-Brick at temperatures below 40°F.
Manufactured Home Skirting




Flexi-Brick™ used in conjunction with polystyrene insulation panels gives manufactured homes the look and feel of real brick.

Mounting Flexi-Brick™ on 2" polystyrene insulation panels for an R-10 insulation value reducing your heating and cooling costs.
No foundation or footings as needed to
support heavy conventional brick.

The strong Flexi-Brick™ Panels allow ground movement in temperature extremes.

Automatic vents close at 400 F and open at 800 F.

Typical installations done

in one day.

Flexi-Brick™ used for foundation surrounds. Decorative products that give the value added look, texture and curb appeal of genuine hand set brick. Each Flexi-Brick™ product is hand crafted in the U.S.A. to exacting standards for that genuine brick appearance only Flexi-Brick™ Premium can give your home.
---
More Pictures
Use Flexi-Brick™ indoors or out, where ever you have a solid surface.
See the chart below for a detailed description of where Flexi-Brick™ can be used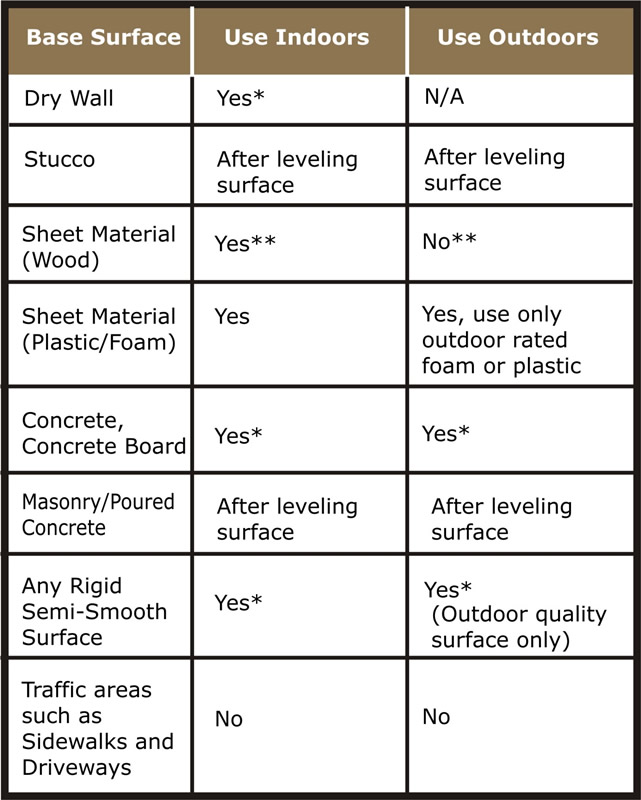 * Before applying Flexi-Brick™ we strongly recommended you pre-treat the base surface, using a primer. Use any standard water-based acrylic primer. We also recommend using mesh on joint seams to prevent cracks.
**Chip board, particle boards of any type, luan, OSB, and tounge and groove planking are unsuitable substrates to directly install Flexi-Brick™ over. These materials tend to swell, warp and delaminate when exposed to moisture. For these applications we recommend covering the wood with exterior sheet material.
Flexi-Brick™ is not suitable for traffic areas
---
---